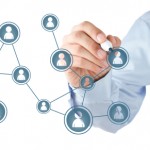 It's who you know." Networking is a crucial part of any small business marketing plan, and it is especially important when marketing a law firm. Networking for lawyers is a bit trickier for personal injury lawyers and other attorneys, due to the rules of solicitation. Unlike most professions, lawyers cannot simply ask for business, and must adhere to the rules of lawyer marketing. However, this is not an excuse to neglect this critical form of legal advertising.
Some personal injury lawyers view networking as a necessary evil, while others do their best to avoid it completely. If you approach networking for lawyers in a positive light, however, not only might you enjoy the practice more, you may profit greatly by it. Networking, at its core, is an opportunity to get to know people from various backgrounds. This is especially important for injury lawyers, as clients come from all walks of life. If you approach networking for lawyers as a way of connecting with people, it will seem less like a chore.
Lawyer Marketing: Referrals
Getting to know other lawyers outside the courtroom can lead to having business referred to your firm. Referrals are an important aspect of lawyer marketing and can benefit both parties, so it is wise to develop these relationships. Take the time to meet other attorneys, especially those who are not personal injury lawyers. You can join your local bar association and attend their events, ask colleagues to introduce you to other lawyers, and develop relationships over the Internet by posting supportive responses on other attorney's blogs and online discussion groups.
Networking for Lawyers: Join Local Organizations
In addition to joining your local bar association, it is wise to become a member of other civic groups, the Chamber of Commerce, and other community organizations. Attend networking and social events as often as your schedule allows. Serving on the boards of directors for local non-profits is also desirable. While you cannot directly solicit business, you can be specific about how you can be of service. Rather than just telling people you are a lawyer, describe what you really do by saying something to the effect of, "I'm a personal injury attorney. I help people who have been injured due to someone else's negligence get the money they need for their recoveries." When people understand how you help others, they will remember you in a positive light. This may prompt them to seek you out when they or someone they know need your services.
Marketing a Law Firm Electronically
The Internet is a great tool for networking. Using social media sites such as LinkedIn, Facebook and Twitter when marketing a law firm can help foster relationships with other people and law firms. Blogging is an excellent way to get others to see you as a legal resource in your community. Staying in touch with other professionals through emails, texts and other electronic messages is sound business practice.
Make Networking a Part of Your Marketing Plan
You should write your networking goals into your comprehensive marketing plan. Networking for lawyers is powerful form of legal advertising that will help your business grow. Lawyers Group can help you combine television, Internet and mobile advertising with your networking efforts to maximize response, and all for a price you can afford.
To learn more about our turnkey lawyer marketing program, contact us here or call the Lawyers Group Today at 1-800-528-9644.